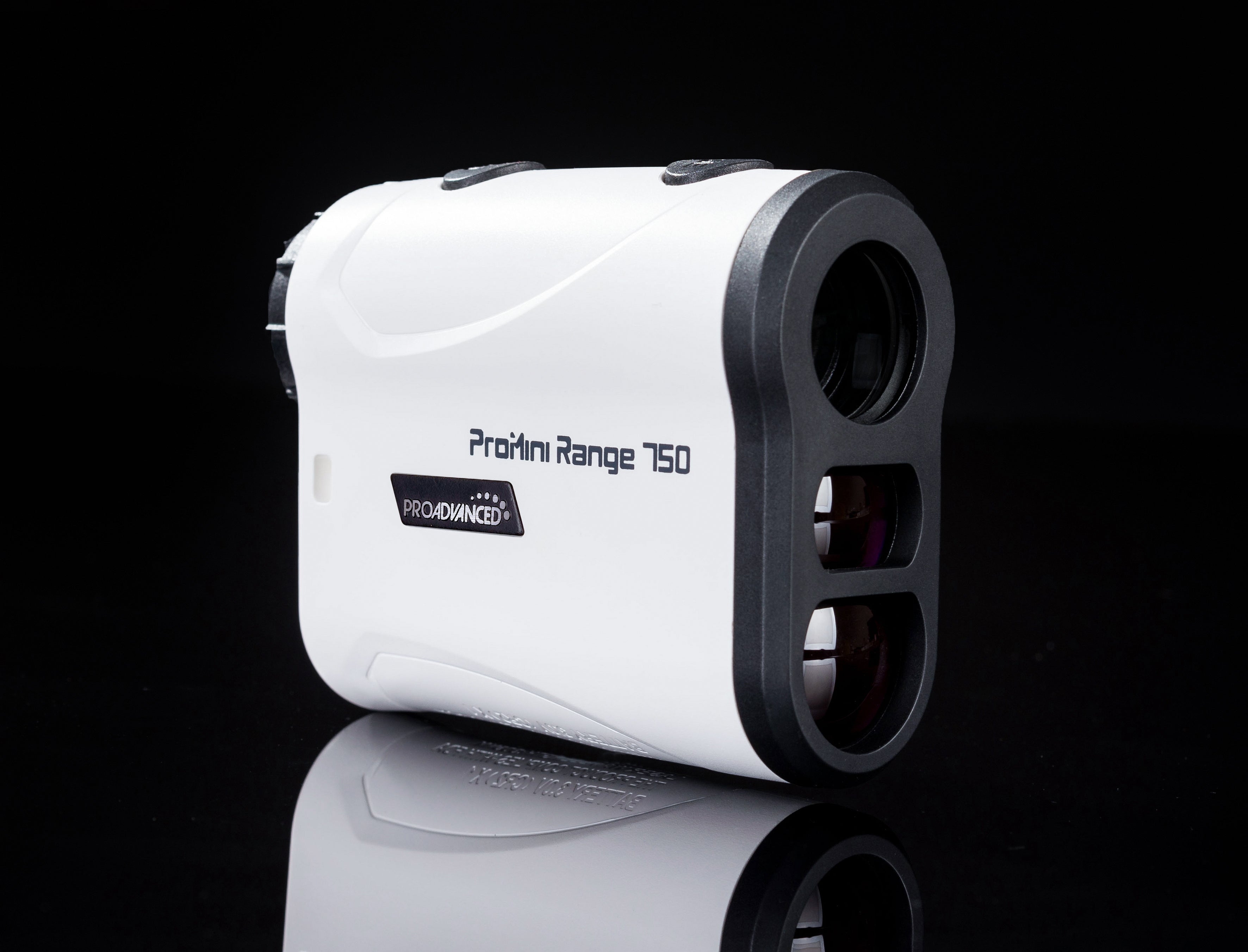 In January 2017, ProAdvanced unveiled its newest telescope rangefinder -- ProMini Range 750, at the PGA Merchandise 2017 (64th Annual American Golf Association Golf Show). This is an iconic product, using the third-generation ranging technology, making accuracy within ± 0.5 yards, with unique and original design patent makes the world's lightest and smallest body, and extra Speed Measuring Function.
When time come to 2018, ProAdvanced brought its newest product again: ProMini Range 750+ —— with the most advanced Slope Calculation Function & Continues Measurement Function! Same size but much powerful!   
ProAdvanced is the world's top and most innovative golf equipment manufacturing company. "Let everyone enjoy golf without leaving home" is what they have been pursuing. Since its inception, the company has maintained a surprising sales growth rate in the world, its ProReturn, ProInfinity, ProIndoor and other series of products are at the forefront on the market of professional training equipment. Over thirty countries, more than 20,000 supermarkets, retail stores and stadiums are selling their products. A frequent guest of numbers of authoritative sport magazines (Golf Digest, Golf.Com, Golf Weekly and others).
When Interviewing Mr. Ronaldo Luiz Nazario De Lima, he expressed his love on golf sport like other people, and his interest on this rangefinder.
Evaluation
Part one: Overview
The range finder products on the market currently are divided by their manufacturing techniques and working performance. The techniques include first-generation, second-generation, third-generation, and fourth-generation. Today's mainstream products are using second or third generation tech. With products iteration, each generation has a qualitative leap in performance. 
The main shortcomings of the outmoded rangefinder:
The measured distance is short: the actual measurement distance will be far less than its nominal farthest measurement distance. The farthest distances described in the product's parameters generally based on two data: highly reflective targets (usually with reflectors) and the furthest distance to the tree (or flagpole). For example, one of Bushnell's product indicates the furthest distance with 999 yards and the distance to the tree with 450 yards, so the real farthest measurement distance is only 450 yards when using.
Awful observations effect: the optical system of the early models are outdated.  Their light transmissivity are low and usually very difficult to accurately find the  targets.
In contrast, the ProMini Range 750 has tremendous improvements in all aspects. This product incorporates the optical technology of Leica, Swarovski and other telescope products. While using the latest multi-layer all-coated lenses, the light transmissivity, contrast and clarity have been greatly improved. This improvement makes rangefinder's observation effect comparable with high-end binoculars.
The product operates by sending invisible infrared energy pulses which is eye-safe (but not directly visible). Its built-in state-of-the-art digital processor and ASIC chip allows instant and accurate readings for every measurement. For each measurement, the ray will rapidly locates target for several times, the data will be analyzed and finally shows the result of the nearest one, in order to ensure the accuracy of the measurement results.
Part two: Actual Measurement
Test 1. Flag-stick Detective Function (Flag Mode)
Test condition: Cloudy, with pole far from 361~363 yards, white color, no wind, 2:36 PM on 8 NOV, 2017.
Test of flag-stick target function. You can see from the video that we used the item to spot-on stick or pole-like object from 400 yard. Very easy to use and quick response. Its quality and ability makes it able to compete with any other brands' range finders on the market.
Test 2: Light Transmittance Rate
Test condition: Sunshine, with trees & buildings, no wind, 11:16 AM on 9 NOV, 2017
How to identify the quality of Light Transmittance Rate?The transmittance is related to various factors (such as the absorption of light, reflection loss of optical surface, light scattering, etc.) Some brands show their magnification between 6X or 7X, but most observation effects are unacceptable. If the Light Transmittance quality is good, even 6X will perform better than 12X! Higher Light Transmittance makes ProMini range 750 up to the standard of telescope.
Test 3: Accuracy Contrast
Test condition: Sunshine, with distance mark, no wind, 1:00 PM on 10 NOV, 2017
Step 1:  Test ProMini Range 750 only by distance mark from 200 yards.
Step 2:  Test Tour V3 of Bushnell in a random place together with ProMini Range 750. The distance data will show on both type of rangefinders' screen, and user can identify that, the accuracy deviation between two brands are very little.
Test 4: Target Ability
Test condition: Cloudy, with trees, 1:10 PM on 11 NOV, 2017
How is the ability of identify targets of ProMini Range 750 ?
Today we find one place with lots of tall palm trees along the road, great test environment! So our targets are those palm trees' trunks, the branches and leaves on the backside are not too far away from the trunks. We can easily see the different distance data between targets and backside. Nice distinguish and target-analyze ability.
Test 5: Final Test Of 6 Rangefinders 
For this test, we have prepared six different rangefinders. Let's see which one is the real boss of all!
Part three: Conclusion
Compared with other brands, the ProMini series products have not only the elegant appearance of the line, but they also have light body and portable belt clip. There are almost no short plates: high light transmittance, clear telescope eyepiece, advanced optical system combines with cutting-edge digital ranging systems. In terms of accuracy, it can compete with the best Bushnell products in the world! And such a powerful and comprehensive equipment, the price is surprisingly affordable for ordinary consumers, unbelievable!
Dec 04, 2018

Category:

News
Comments: 0